By Anna Ozhiganova
A variety of esoteric practices around the world aim at spiritual self-transformation and unlocking a person's hidden or supernatural abilities. In contrast, practices that target infants or even unborn children in the womb, with the goal of creating a superhuman or a new species of human are rather rare. One such esoteric project, originating in the Soviet Union, was surprisingly linked to global New Age ideas despite the Iron Curtain and contributed to the development of the New Age myth of humans becoming dolphins.
On July 22, 1986, an event occurred that, according to its participants, would change the history of mankind: a baby girl named Eya was born on the Black Sea coast of Crimea, right in the seawater, without any medical assistance. A tantric practitioner Vladimir Bagryansky described the sea birth of his daughter as a global initiation, proving that "the human possibilities are virtually unlimited" (Bagryansky, 2011). Citing Chris Griscom, the American New Age author and an enthusiastic supporter of waterbirth, he declared the dawn of a new era of true global citizenship. Catherine, the newborn's mother, described her birth experience in a more intimate but no less esoteric way:
There was a strange noise in my mind, reminiscent of the tape-recorded sounds of marine life – the clicking and whistling of fish and dolphins, the rustling of seaweed and pebbles, and the sound of waves. Closing my eyes, I immersed myself in this symphony of the primordial matter from which we all emerged and to which we are forever bound… I found myself embraced in some great mystery. […] So we lay there for about four hours… The arrival of two dolphins that day, swimming close to the birthplace, intensified this state of exaltation. It was the biggest celebration of my life (Cit. in: Bagryansky, 2011).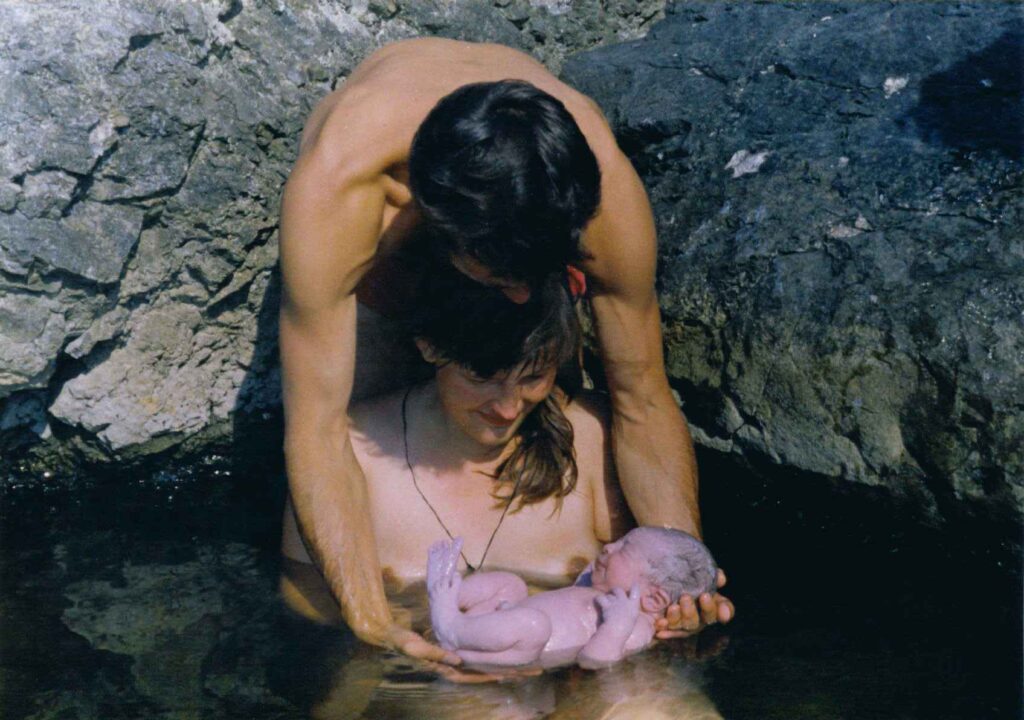 For their part, Alexey and Tatyana Sargunas – a pair of waterbirth activists who attended Eya's birth – acknowledged the global spiritual, as well as political significance of the event:
It's an interesting coincidence that the first flight into space, into space weightlessness, and the first birth into the water, into water weightlessness, took place in our country, in the Soviet Union! (Sargunas 1985:6).
The birth of the "first Soviet sea baby" was heavily mediatized. Alexey Sargunas made a video and Vladimir Bagryansky took photos of the birth. They were joined by professional photographer Alexander Grashchenkov, whose photos of the newborn and her parents were later published in popular Soviet magazines. Alexey Sargunas' footage was included in the documentary Igor Charkovsky. An Impossible Dream (Gosteleradio USSR and Les Films Auramax, 1989).
These people were followers of the Aquaculture project, authored by the visionary and charismatic teacher Igor Charkovsky (1936–2021), and aimed at the creation of a new human being called a "sensitive" or "baby-dolphin" who was believed to possess paranormal abilities such as clairvoyance, telepathy, spiritual healing, and the ability to live in the ocean. The Aquaculture project was part of a broad grassroots parental movement for an alternative lifestyle that originated in the 1970s and reached the peak of its popularity in the 1980s, but continued to exist, albeit in a transformed form, after the collapse of the Soviet Union. Alternative parents practiced cold strengthening in ice-holes, jogging, yoga, breathing exercises, naturopathy, and other health and childrearing practices.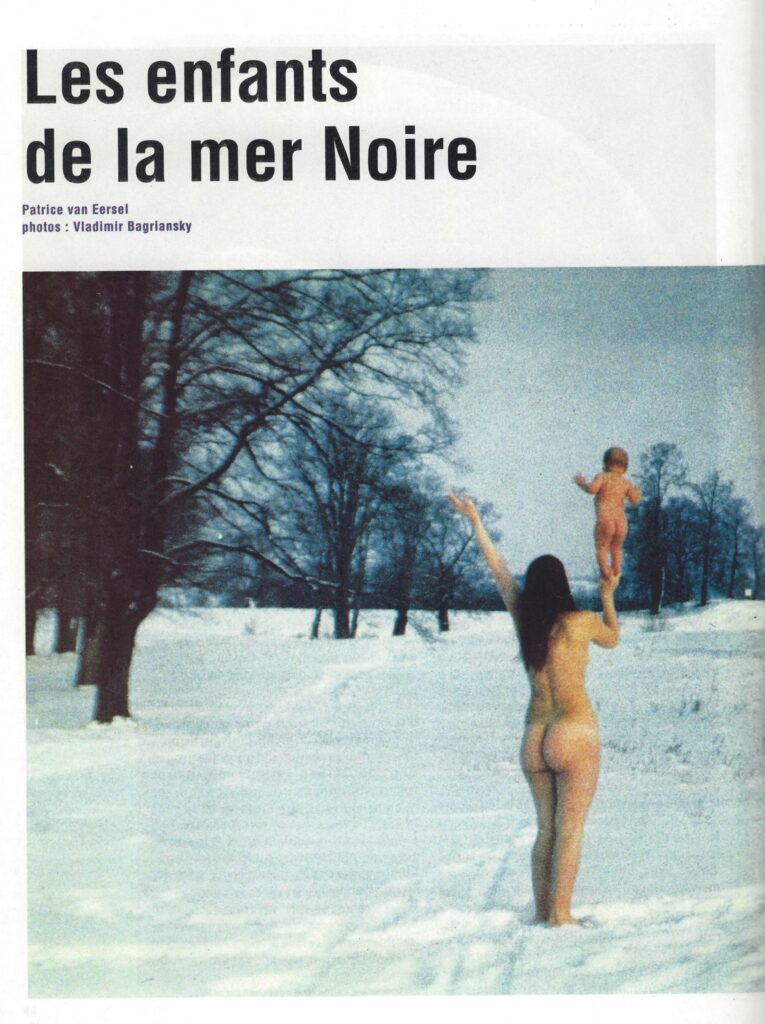 In the 1970s-1980s, Charkovsky made acquaintance with several prominent figures of the global New Age, such as the American neurophysiologist and pioneer of human-dolphin communication research John Lilly; the famous French free diver Jacques Mayol, author of the book Homo Delphinus: The Dolphin Within Man (1979); an Australian visionary and activist, the "Dolphin Lady" Estelle Myers; a French journalist and film producer Patrice van Ersel, who later wrote a book about sea births in the Soviet Union (1993), and many others.
Figure 2. Eya Bagriansky with her mother Ekaterina. Vladimir region, January 1, 1987.  Photo by Vladimir Bagriansky. In: Patrice Van Eersel. (1984) Nouvelle science: Les mutants de la Mer Noir, Actuel, No 60, p.176-181, 187-190.
In 1981, Swedish journalist Erik Sidenbladh met Charkovsky in Moscow and recorded a series of interviews about the "constructively new approach to childbirth and child-rearing, developed by the Soviet researcher" (Sidenbladh 1982, 1). His book Water Babies with many pictures, was published in Sweden in 1982 and quickly translated into European languages, making Charkovsky's experiments and fantasies known in the Western world under the name of the Russian method of waterbirth and active infant rearing. As a result of the sudden synchronicity, the Aquaculture project coincided with the New Age agenda of harmonious coexistence of humans and nature and contributed to the holistic New Age myth by linking two important themes: natural childbirth and human-dolphin identity (see more: Ozhiganova 2021).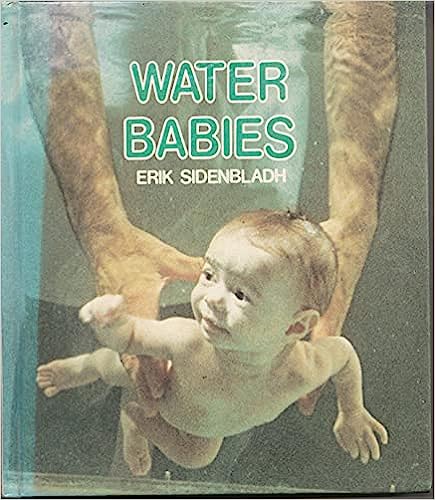 The Aquaculture project has also influenced the New Age myth of miracle children who can change the world for the better (a variant of this is the belief in Indigo children). For example, American New Age author Sondra Rey enthusiastically promoted the Russian method to escape birth trauma and receive a child with amazing abilities: Water babies stand on their feet at the age of two months and walk at six months; they are physically stronger, rarely sick, and easily tolerate cold; they are more active, enlightened, creative, confident, and intelligent, and less aggressive than normal babies (Rey 1985).
The Aquaculture project was a highly controversial phenomenon in which the desire for spiritual transformation went along with human tragedies. Several little participants in these experiments died as a result of the blind enthusiasm of their parents. The practice of waterbirth, which has spread in maternity care worldwide since the 1980s, has little to do with Charkovsky's experiments, although they made certain contributions to its emergence (Odent 1984). The Western approach was completely different: holistic, gentle, and aimed at the physiological and emotional needs of women. In contrast, the Aquaculture method was extremely radical, often intolerant and violent, and focused on the child, insisting that being born in water would provide great advantages and help to become a "baby-dolphin," a kind of superhuman being.
#
Dr. Anna Ozhiganova currently is a visiting fellow at CAS-E. Her main focus on research is medical anthropology, New Age, and New Religious Movements. In the past, she has been teaching at the Russian State University for Humanities (RSUH) and Russian Presidential Academy of National Economy and Public Administration (RANEPA) as an associate professor.
___
References
Bagryansky, V. (2011) Charkovsky's Lessons: Ethical Conflicts as the Essence of All Russia's Problems (2). Aphrodite's Annunciation. A personal blog on Facebook (In Russian).
Odent, M. (1984) Birth Reborn. NY: Pantheon.
Ozhiganova, A. (2021) "Giving Birth to a Baby-Dolphin. Esoteric Representations of Human-Dolphin Connections in the Late-Soviet Waterbirth Movement," Baltic Worlds 4: 39–49. https://balticworlds.com/giving-birth-to-a-baby-dolphin/.
Sargunas, A. 1985. History and General Ideas of the "Babies-Dolphins" Program. AQUA 2:5-12. (In Russian).
Sidendladh, E. (1982) Water babies. NY: St.Martin's Pres.
Rey, S. (1985) Ideal Birth. Berkeley: Celestial Arts.
___
CAS-E blogs may be reprinted with the following acknowledgement: "This article was published by CAS-E on August 2nd, 2023."
The views and opinions expressed in blog posts and comments made in response to the blog posts are those of the author(s) and do not necessarily reflect the views and opinions of CAS-E, its founders, its staff, or any agent or institution affiliated with it, nor those of the institution(s) with which the author is affiliated.
___